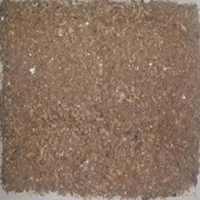 Quick Seal LCM (Lost Circulation Material) is an all-purpose additive designed to reduce minor seepage losses as well as severe lost circulation. This material is high-temperature softening and coarsely-ground modified hydrocarbon for loss of circulation material. The Quick Seal LCM is the ideal product that is used in oil-base mud systems. The material is water-insoluble, ultra-fine, complex cellulose material and is suitable for maintaining seepage and loss of circulation while drilling through under-pressured or consumed zones.
Advantages of Quick Seal LCM (Lost Circulation Material):
• It is can be utilized effectively to stop the loss of fluids in unconsolidated formations.
• This material is non–toxic and non-damaging to formations.
• This product provides lubricity in the borehole and helps in preventing differential sticking.
Quick Seal LCM is a blend of flake, granular, and fibrous materials of selected sizes, shapes and durability that is made primarily to stop lost circulation in a wide range of conditions with water-based drilling fluids. The percentage and particle size distribution of each component results in a product that has a wide application for controlling the loss of circulation. To function effectively over the extensive range of lost circulation conditions, Quick Seal LCM is available in the following three grinds:
• Quick Seal LCM (coarse grind) is commonly utilized to seal large fractures and highly permeable formations. It should be utilized with open water course bits or an open-ended drill pipe. A slug containing 30 to 40 ppb or 85 to 114 kg/m3 of the product is usually enough.
• Quick Seal LCM (medium grind) can be utilized in sealing porous zones and medium-to-fine fractures. The material can be used with jet bits and a concentration of between 10 to 15 ppb (26 to 43 kg/m3) is recommended.
• Quick Seal LCM (fine grind) is suitable where seepage losses are a problem, such as with fine fractures or porous formations. Fine grind can be circulated through course-mesh shaker screens and can be managed in the mud as filler. A concentration of between 3 to 6 ppb (8.5 to 17 kg/m3) is recommended.
The Quick Seal LCM exporters and suppliers are instrumental in offering a wide gamut of Quick Seal LCM in the market. One can rely on one of the top Quick Seal LCM exporters, indulged in providing optimum quality product range at a reasonable price. The Quick Seal LCM exporters ensure to conduct tests of the entire range on various parameters and the procuring process of the entire range of Quick Seal LCM is managed by the qualified and experienced team of professionals. The entire range of the product is manufactured under hygienic conditions ensuring the effective formulations and is provided to the clients with damage-free packaging.
Quick Seal LCM is commonly packaged in 25kg, 50kg, 50lb lined plastic woven bag or packed as per the client's requirements. It is highly suggested to store this product in a dry cool and ventilation environment. One should ensure that packaging is completely sealed to avoid moisture and damp. The shelf life of this product is two years.